There is no such a thing as a Perfect Sailboat and the hunt for one can give you somewhat of a headache. Our previous Grandiosa, a Beneteau Oceanis 473, was our first sailboat ever.  So when we bought her we didn't really know what to look for. This time it was going to be a little bit more complicated, mostly because this time we knew what we wanted. Good thing there are an endless amount of webpages and cruising blogs to give inspiration and good advices. To begin our hunt, we started off by writing a wish list and a budget.
In spring 2014, we started to keep our eyes open, went to Boat exhibitions and searched the internet. In the summer, we walked the dock of Smögen (Smögenbryggan) back and forth, looking for boat models that fitted to our needs. But nothing felt completely right. Something was always missing. By the time winter was over us, we started to consider buying a sailboat in the Mediterranean or anywhere is the world. We were desperate!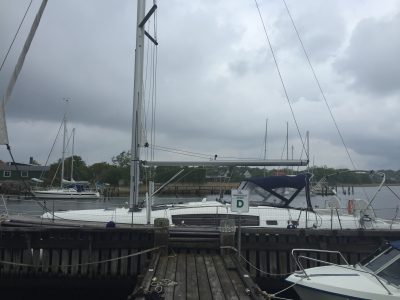 And it wasn't until the ice had begun to melt, when our son Tryggve one evening came to us with an ad showing a blue sailboat for sale in Gothenburg (1.5 hours drive from our island!). Ironical, our Perfect sailboat turned out to be a Beneteau Oceanis 46.
To make her perfect as our cruising home she needed some extra accessories. Joel constructed an arch for our solar panels and wind generator. He then gave our local mechanics the assignment to make them. They turned out great. Especially the stern pulpit seats which were on our wish list to begin with.
There are a lot of reasons why we love our Grandiosa. She is a sturdy girl but not bigger than Joel and I can handle together. She is comfortable, easy maneuvered and very user friendly. We also love the fact that she has two wheels. The salon is spacious with a quite comfortable sofa. The entire salon is surrounded by portholes and deckhouse windows that provide plenty of light.

We especially appreciate the built-in mosquito nets, something we wish we had when we were attacked by hundreds of thousands of grasshoppers in Guinea Bissau ten years ago. We still get the shivers just thinking about it.
For all of you who enjoys technical specifications, here you go:
Our Grandiosa is a Beneteau Oceanis 46 from 2011 and she is a French beauty.
LOA: 14.40m
Beam: 4.25m
Draft: 1.70m
Designer: Berret Racoupeau Design
Motor: Yanmar, diesel, 75hp
Fuel: 201L
Water: 530L
Mast height from designed waterline: 19.05m
But in the end when it comes to find your perfect sailboat, it is not the size, color or how many square meters your headsail is that matters. It is how important your dream to sail is. There are so many inspiring people that has sailed across the world with a lot smaller boat than ours.  In common they all share the same dream.